Financial Certainty for an unexpected future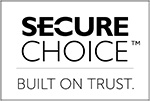 Please contact your Credit Union if you are interested in purchasing SecureChoice™ insurance solutions.
These plans provide financial support you can depend on including:
Helping you fill the gap in your existing healthcare and insurance coverage.
Providing cash benefits to provide for your family to enable you to maintain your standard of living.
Insurance benefits are paid directly to you or your beneficiary for you to use where it can help you most.
Affordable coverage rates starting at $10 a month.